The administrative tasks for keeping BrickLink running smoothly have increased and so we now have a Customer Support Team to address the growing needs. I'd like to welcome Sean and Carlyle and re-introduce Eric as members of the team. We have recently adopted some software to make help desk issues easier to manage and we're working on getting up to speed with all of the various administrative tasks we now share.
Sean Forbes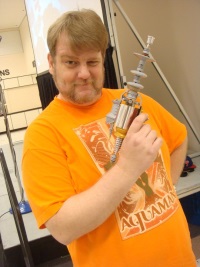 Sean Forbes with ray gun by Guy Himber
While I played with a lot of Lego as a kid, I was a Transformers and GI Joe guy. My neighbor had just about every Classic Space set and I had the action figures. It wasn't until 1998 when I met Steve Jackson (creator of GURPS and Munchkin among many other games) that I first played Evil Stevie's Pirate Game and fell in love (again) with the brick. After that, I discovered the joys of buying sets and talking to others via Lugnet. I connected with others in the Seattle area and we ended up forming SEALUG which has brought many new friends and experiences into my life. I don't have a single theme or style, mostly because I don't build enough! As a comic book geek, I love that we now get both DC and Marvel sets. I help coordinate the SeaLUG display at Emerald City Comic Con and I also help run BrickCon and over the past several years I've become the "Voice of BrickCon" as MC of the weekend.
Professionally speaking, I worked for around 15 years in customer service at a large, Japanese video game company, providing phone and email support as well as special projects like time spent as an administrator for their community forums. Before that, just about all of my jobs have been in the service industry, back to my first job of delivering pizzas. I've always liked puzzling out what people want and need and finding a way to deliver. I'm really excited to have found a chance to use my professional skills in a Lego related field!
Carlyle Livingston
Hello to all of you in the Bricklink community! I'm delighted to be joining the team at Bricklink. I've been a buyer and recently a seller on Bricklink since 2010. My interest in LEGO goes all the way back to when I was about eight years old and I got my first set. I suspect that it was instrumental in my deciding to become a professional model maker and special effects artist.
Many years later I returned to my childhood hobby. In short order I discovered a local group called SEALUG, then BrickCon and of course Bricklink. I use Bricklink as one of the main ways I get LEGO for my projects. I love to build many types of MOC's but my favorite themes are Space, Architecture, and Vehicles like aircraft and cars. My most well-known MOC is a collaboration with my friend Wayne Hussey. We built a Batcave that was featured in the LEGO club magazine as well as Brick Journal.
I really want to help people learn about the site and how best to use it while at the same time listening to questions and comments that we can use to make it the best LEGO marketplace in the world! I've had a small glimpse of where Bricklink is headed and I'm eager to be part of the process to help it get there.
Eric Smith
Eric has served as administrator of BrickLink since 2010. Prior to that, his company provided hosting for the site from 2001-2013. With the addition of the new customer service personnel, he will be focusing on the more complex and technical questions, as well as supporting new features that will be added to the site.
More BrickLink news
BrickLink Roundtable -

321 days ago, 2013-09-13

When BrickLink Met Hogwarts. -

262 days ago, 2013-11-11

Welcome! -

232 days ago, 2013-12-11

Meet our Development Teams! -

220 days ago, 2013-12-23

Introducing the Customer Support Team -

176 days ago, 2014-02-05

Bricklink Summit -

170 days ago, 2014-02-11

BrickLink Building Challenges -

162 days ago, 2014-02-19

BrickLink MOC Shop -

149 days ago, 2014-03-04

MOC Shop Part 2 -

128 days ago, 2014-03-25

BrickLink Survey and Building Challenge. -

62 days ago, 2014-05-30