The MOC shop has three important components: the designer, the seller, and the shopper. The designer obviously creates the model and the accompanying digital model, instructions, and parts list that goes with it. The sellers will have the opportunity to offer the model for sale to shoppers worldwide.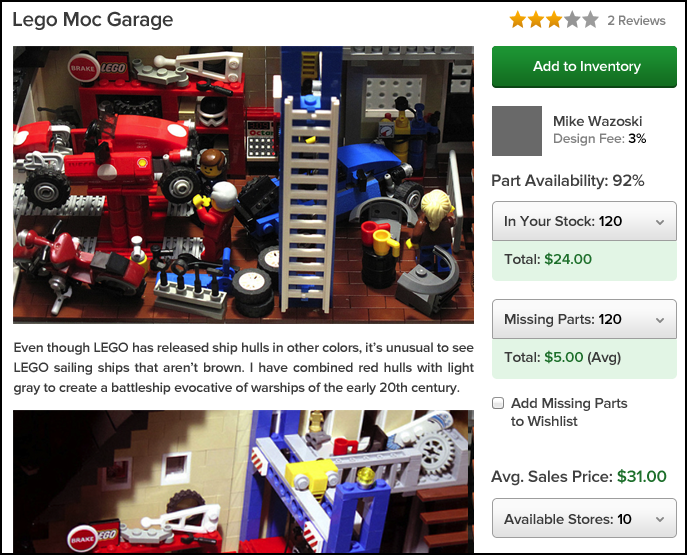 Example - Garage MOC
Let's use this garage MOC as an example. On the inventory page, a seller will be able to add the garage or other new models that have been approved. The list can be sorted by various characteristics and will show the current average price for the model. Besides being able to check the normal metrics such as parts list, part count, and average price, a seller will be able to keep track of the customer demand for each MOC. (BrickLink will keep count of how many members request a MOC for sale.) Based on this information, a seller can choose when and how to best sell a MOC.
If a seller wants to add the garage to their inventory, they can see their parts availability and easily check what parts they already have and what parts they are missing. The missing parts can automatically be added to a wish list where they can see what stores have the parts they need. Once a seller has a complete parts list, they can add the model to their inventory. This will automatically remove those parts from their regular parts inventory and be designated as inventory for a MOC. On the inventory home page, they can see how many garage models they have in stock. Any MOC in their inventory can be parted out at any time as long as there are no pending orders. We want to stress that supplying a MOC is entirely the seller's choice. If a seller chooses not to add a MOC to their inventory, they will not be randomly assigned to a MOC order.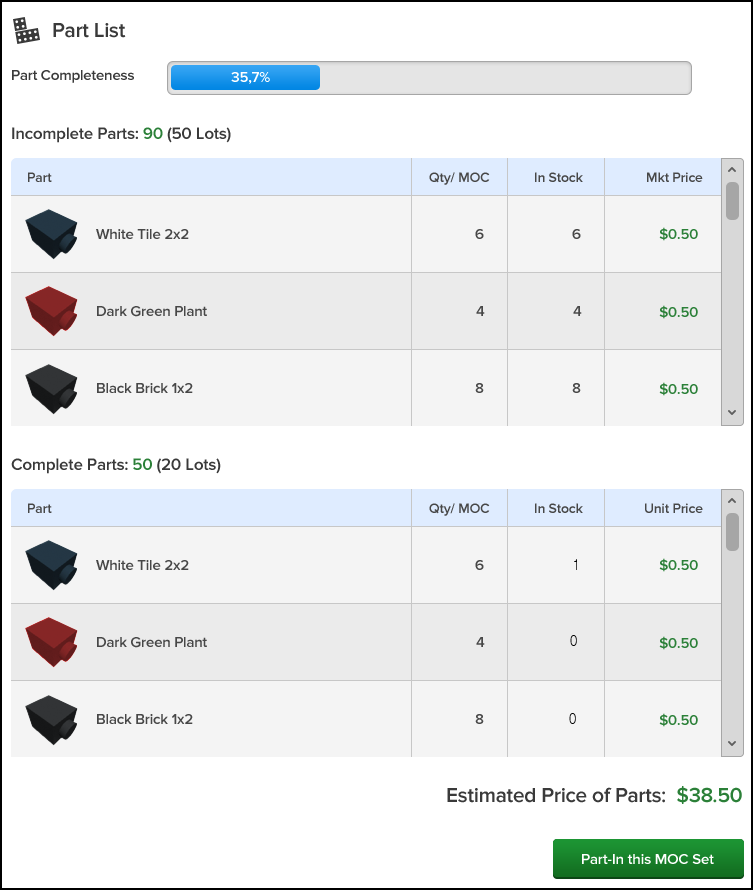 Example - Part-In Process
Completing a Parts List
Because of the enormous number of parts in the catalog (and therefore in the parts stash of many builders), it is likely that any seller, even the very large ones, will be missing a few parts on any particular MOC parts list. This is the main reason why the initial models that we are offering are small- about 150 parts or less. Even with these small models, there are usually between 1 and 5 sellers worldwide who have 100% of the parts. We will be working with a few select stores in the US and Europe to test these new features and streamline this process to make sure that it is easy and efficient to use.

When a MOC is picked up by a seller, we would like to feature that store on our Facebook, Twitter, and/or the MOC page homepage. The more MOCs a store offers, the more publicity they get.
Orders
An order for a MOC will look like any other order, except that the parts list will be predetermined. Buyers will not be able to see the parts list or add additional random parts, as this will need to be ordered through BL 1.0 in the traditional manner. Buyers will see the prices of all sellers, with those in their home country listed first.
Fees and Pricing
The base MOC price will be the sum of the part price from a seller's inventory. Let's say in your store, the base MOC price comes to $10. As part of the submission process, the designer will have selected a design fee of 0%-5% (3% is $.30). This will be shown to the buyer as part of the model price. ($10 + $.30 = $10.30 Model price) BrickLink takes 30 percent of design fee and 70 percent goes to the designer. But, the designers will receive 100 percent of the design fee as part of the grand opening of the MOC Shop. The BrickLink MOC Shop fee will be a fixed 5% of the base price and will continue to be assessed with the design fee to sellers on a monthly basis.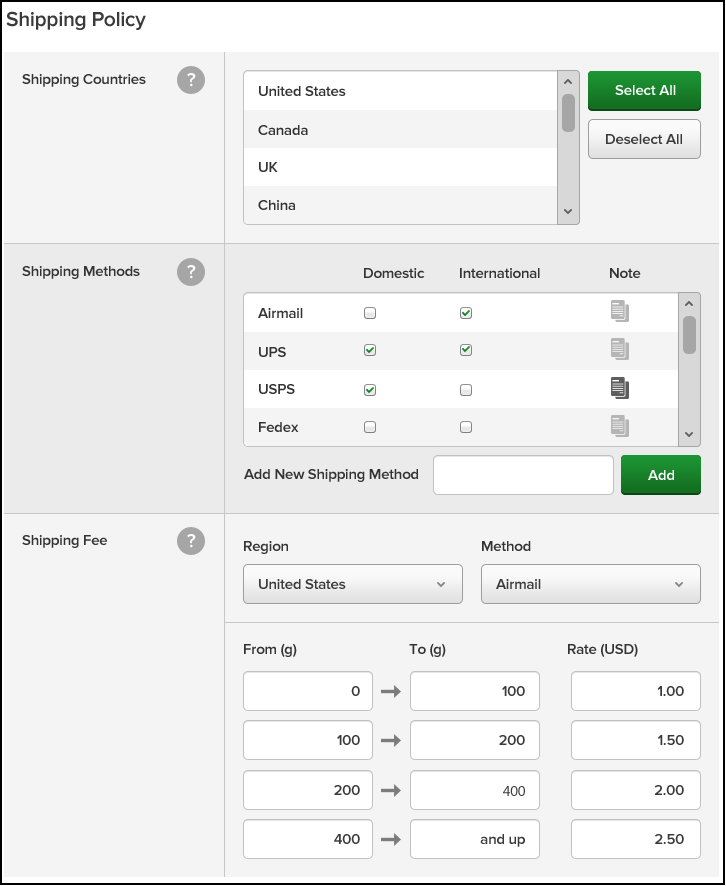 Example - Shipping Fee Option
Shipping and Handling
The MOC shop will have shipping and handling integrated into the checkout process and will have layers of options to help sellers to set up a correct shipping fee structure. On the top-most layer, individual sellers can enter a shipping fee for each MOC item for each shipping method. If a seller doesn't enter shipping fees for a certain item, they will be filled with store default shipping fees determined by weight, shipping regions, and shipping methods. Finally, the store default settings will come from shared local store settings within the same region, such as Chicago. This way, sellers can opt-in to fully customize their own shipping fees or let them follow what other sellers are doing. All available shipping methods will be visible to a buyer. If a seller chooses to charge a handling fee, this will also be shown in checkout. There will not be a need to send out an invoice as payment can be made immediately through PayPal.
Example - MOC Inventory Item Detail Page
More BrickLink news
Introducing the Customer Support Team -

226 days ago, 2014-02-05

Bricklink Summit -

220 days ago, 2014-02-11

BrickLink Building Challenges -

212 days ago, 2014-02-19

BrickLink MOC Shop -

198 days ago, 2014-03-04

MOC Shop Part 2 -

178 days ago, 2014-03-25

BrickLink Survey and Building Challenge. -

112 days ago, 2014-05-30

MOC Shop Beta Launches -

98 days ago, 2014-06-13

BrickLink Inside Story -

38 days ago, 2014-08-11

BrickLink MOC-Off: Holiday Edition -

37 days ago, 2014-08-13

New Features on BrickLink 1.0 -

31 days ago, 2014-08-18
26 Messages in this Thread:

Msg 1 « - Admin, 178 days ago, 2014-03-25 to NEWS



Msg 2 - shadowarrowny(240)

, 178 days ago, 2014-03-25 to NEWS



Msg 3 - Daave(388)

, 178 days ago, 2014-03-25 to NEWS



Msg 4 - StarBrick(3136)

, 178 days ago, 2014-03-25 to NEWS




Msg 5 - Daave(388)

, 178 days ago, 2014-03-25 to NEWS



Msg 6 - enig(695)

, 178 days ago, 2014-03-25 to NEWS



Msg 7 - MonoNick(480)

, 178 days ago, 2014-03-25 to NEWS



Msg 8 - StarBrick(3136)

, 178 days ago, 2014-03-25 to NEWS




Msg 9 - mabccc(204)

, 178 days ago, 2014-03-25 to NEWS





Msg 10 - StarBrick(3136)

, 178 days ago, 2014-03-25 to NEWS





Msg 11 - LEGOMASTER(173)

, 178 days ago, 2014-03-25 to NEWS



Msg 12 - cs_amanda, 177 days ago, 2014-03-25 to NEWS



Msg 13 - WoutR(343)

, 178 days ago, 2014-03-25 to NEWS



Msg 14 - FigBits(1045)

, 178 days ago, 2014-03-25 to NEWS



Msg 15 - WoutR(343)

, 178 days ago, 2014-03-25 to NEWS



Msg 16 - Loremonger(180)

, 178 days ago, 2014-03-25 to NEWS



Msg 17 - zux(23)

, 178 days ago, 2014-03-25 to NEWS



Msg 18 - Saaby(926)

, 161 days ago, 2014-04-11 to NEWS



Msg 19 - WoutR(343)

, 161 days ago, 2014-04-11 to NEWS



Msg 20 - bgallenb(39)

, 153 days ago, 2014-04-19 to NEWS



Msg 21 - cs_amanda, 153 days ago, 2014-04-19 to NEWS




Msg 22 - Cyberclark(722)

, 153 days ago, 2014-04-19 to NEWS





Msg 23 - milesfinlay(627)

, 152 days ago, 2014-04-20 to NEWS



Msg 24 - krank1973(3226)

, 153 days ago, 2014-04-19 to NEWS



Msg 25 - FigBits(1045)

, 152 days ago, 2014-04-19 to NEWS



Msg 26 - bearitone(947)

, 117 days ago, 2014-05-25 to NEWS